News
Official Opening Ceremony
Back
Posted on / September 21st 2021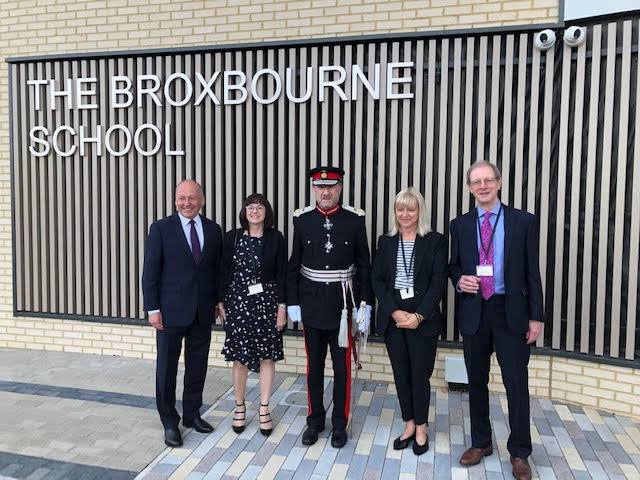 The Lord Lieutenant of Hertfordshire, Robert Voss CBE CStJ was guest of honour at the official opening celebration for The Broxbourne School's impressive new school buildings. As well as speaking, the Lord Lieutenant unveiled a plaque to celebrate the opening of the school and a second plaque to recognise the contribution by one governor, David Horner, a long serving governor. Without David Horner's time, commitment and legal expertise, the rebuild project would not have been possible.

Karen Trew, Chair of the Governing Body said "It gives me great pleasure to welcome you to the official opening celebration for our fabulous new school building. We now have a school, and community facilities, that are fit for the 21 st Century. We are proud of our new school building and we are delighted that it was named as winner of the School Building Award 2021 in the Education Business Awards".

David Williams, former Leader of Hertfordshire County Council was a distinguished guest and spoke of his long association with the school as they realised their ambitious plans to rebuild the school and to replace old buildings that were no longer economical to maintain. The new school building was funded by the sale of part of the school site.

Working with their consultants Cornerstone Property Assets, the school developed their plans for the rebuild and these were delivered by housing development partner Chase New Homes and school build contractor Mid Group. The school construction happened mainly during the pandemic and with minimum disruption as the original school buildings remained in operation during the development. The new school building was completed five months ahead of schedule – a tremendous achievement!

Paula Humphreys, Headteacher said "We are delighted to have delivered state-of the art- learning facilities for our students; outstanding community leisure facilities in the heart of the borough and high-quality new homes".
A special tribute was paid to Margot Shawyer who was Chair of Governors for 16 years until her death in 2015. She was a driving force behind the need for the school to improve the school estate for future generations and a great advocate for sport, often attending local, district and national sporting events where school teams were playing. She passed away before the project was realised and the school has named the sports centre as "The Margot Shawyer Sports Centre" in honour of her contribution to the school over many years.
Click here to see the tweet from The Lord Lieutenant of Hertfordshire, Robert Voss CBE CStJ